Top 20 Digital Marketing Blogs and Their Specialties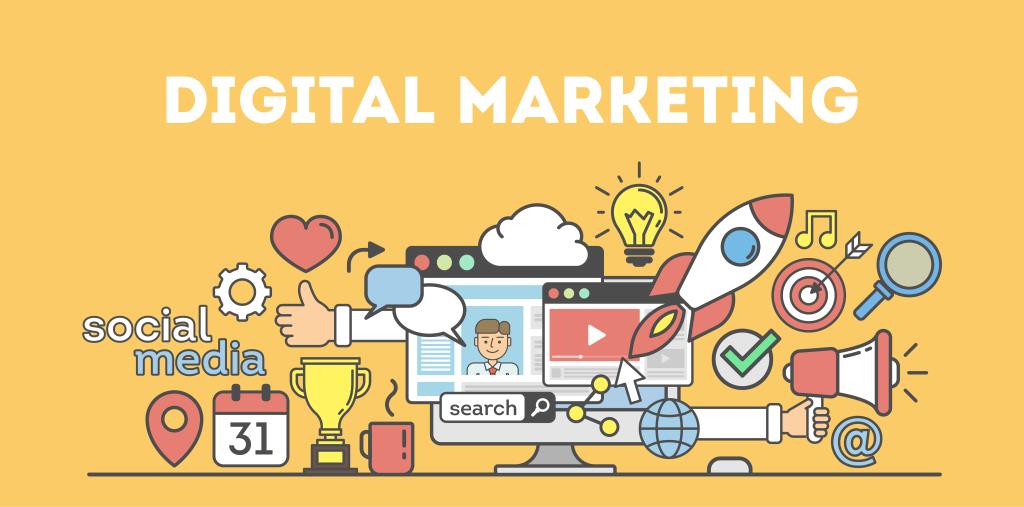 "The Pandemic has left a lot of question marks in its trail. Even as I move from one Zoom meeting room to the next, I am dazed to see the pace of changes all around. Digital marketing has never seen such days with virtual collaborations, e-room strategy making and technology infrastructure taking full control of what's going on. I wonder how you cope up with the new normal Michael!"
Sarah looked zapped for sure.
Michael was concerned to see her grappling with the new tactics, techniques and developments in the world of digital marketing. As an intern in an SEO agency, she needed more hands-on experience in terms of new advertising platforms, changes and developments in web marketing, Google algorithm updates, and more.
"What about the information you read in magazines, e-platforms and other research material? "he asked solemnly.
"That's obsolete even before I can understand what to implement. More so, most of these resources are serious in tone and laden with jargon. Can you suggest other reads that are easy to understand and imbibe?" she said expectantly.
"Do you follow the developments and news published in the top digital marketing blogs? They are free-flowing, of high-quality and packed with information for professional and amateur marketers alike." Michael replied knowledgeably.
"My boss keeps talking about continual self-education with the help of such blogs. But aren't there too many of them floating around? How do I weed the best from the rest? It can be a very cumbersome process, right?" Sarah wondered aloud.
"That's why you need me to shortlist the top digital marketing blogs to make you fit for the best SEO agency. Let me show you what to read to get a grip on the old and new digital marketing mantras," as a good friend he laughed off her fears in a jiffy.
20 Digital Marketing Blogs that You Cannot Miss
Read daily updates of whatever is happening in the digital marketing industry. How-to-guides, daily announcements, use cases, business developments, industry trends, step-by-step tutorials – the blog has it all. Industry experts and thought leaders from across the world contribute to Marketing Land – one of the best blogs to bookmark and keep.
Marketing Land is the brainchild of Danny Sullivan and Chris Sherman, noted search industry veterans with deep insights into the digital marketing industry.

2. Moz
You will find the experts linked to the best SEO agency or digital marketing company returning to the Moz blog again and again. It's a high-authority resource for understanding the latest SEO trends, best practices and studies.
Moz was founded in 2004 by Gillian Muessig and Rand Fishkin. Launched as SEOmoz, it is a popular blogsite and online community with the best SEO experts sharing their ideas and research.

3. Econsultancy
Econsultancy blogs are practical in their approach. They touch upon specific niche industries and the entire digital marketing space at large. B2B or B2C, they all apply the tactics published here to reach their business objectives.
Econsultancy was founded in 1999 by Ashley Friedlein – one of the best-known names and influential figures in Internet marketing. One of his many LinkedIn recommendations state, "If Ashley doesn't know it – it ain't worth knowing."

Social Media Examiner underlines and explains social media challenges to SEO digital marketers. Here, you will find detailed tutorials and studies on what really works. Read the blogs published online to make your social media profitable.
In 2009, Michael Stelzner, the founder of Social Media Examiner understood the nuances of social media for marketing purposes. He showed people how businesses could actually reap rich benefits from these platforms.

A coveted resource to learn the details of digital advertising, Convince & Convert offers a website, books, blog, podcast, and e-books. The crisp and authoritative articles published here are considered insightful and informative by their readers.
Founded in 2008 by Jay Baer- a 7th-generation entrepreneur, the blog draws inspiration from his stint as an advisor to 700 brands. Jay is a noted online marketer, best-selling author, and a keynote speaker at Hall of Fame.

6. Content Marketing Institute
Content Marketing Institute, one of the fastest-growing channels in the digital marketing industry, provides the latest research, changes and innovations in its publishing. The studies, how-to's, blogs, benchmarks and other valuable content help businesses improve upon their results through content marketing.
Joe Pulizzi, an evangelist in the field of content marketing, is the founder of CMI. An experienced author, speaker and entrepreneur, Joe passionately believes that brands can be marketed in better ways today.

7. Ahrefs
The Ahrefs blog packs in content about the technical aspects of SEO. The blog publishes detailed, data-driven information about SEO analysis. It also has guides to link building, keyword research,viral content creation and competitor analysis.Authors have access to the backlink data of Ahrefs' index, therefore, what's published is detailed and accurate with case studies and data-driven examples and case studies.
The backlinks index was founded by Ahrefs CEO, Dmitry in 2010. He founded the first document search engine at the age of 15!

8. Detailed.com
Detailed.com is known for sharing digital marketing secrets that are lapped up by businesses wanting to increase their search engine traffic. Full of fresh tactics and specific SEO advice, the blogs on this site are engaging, insightful and informative.
The founder of Detailed.com, Glen Allsopp, has in-depth industry knowledge of SEO consultancy. The aim of launching this site was to share actionable tactics for increasing search traffic.

9. Backlinko
This SEO and digital marketing blog attracts favor because of its detail approach, best-quality content and the ever-increasing number of comments by subscribers. You can learn how to grab readers' attention through its posts and headlines.
Backlinko was designed and launched by Brian Dean. Brian has earned recognition as a globally-acclaimed SEO expert. He founded this site to archive practical strategies for the successful growth of online businesses.

10. ConversionXL
ConversionXL excels in providing top-notch content of the right length. Whatever's published on this site is backed by deep research and actionable advice by industry experts. The main content has impressive headlines, screenshots,blockquotes, images and videos.
The founder of CXL has an unusual name that's pronounced as Pep Laya'. This conversion optimization champion and an entrepreneur knows how to drive change via digital optimization for sure!

If you are looking for ideas and ways to share content socially then this site is for you. It makes you understand the scope and powers of social media marketing. This, in turn, enables sound usage of different digital marketing strategies that are available for you.
TopRank Marketing, founded in 2001, is the brainchild of Lee Odden and Susan Misukanis. Under the leadership of these co-founders, the Company is now the preferred digital marketing resource and best SEO agency for brands like McKesson, LinkedIn and Dell.

12.Neil Patel
The blogs by Neil Patel are specifically written to educate his audience. Engaging and informative to the core, they explain the need for SEO and other digital marketing products through quality information. The comments on his blogs are a sign of their popularity in all industry verticals.
Neil Patel, a big name in the world of blogging, does his best to respond to all comments to gain the trust of his readers.

13. Brian Solis
Looking for an expert view on topics that are not mainstream? This blog will give you access to in-depth topics and make you an authority on the subject. The content published here will help in speeding up your business growth with smart marketing strategies.
Brian Solis, the founder and main author of his blog, is a well-recognized digital analyst and serious anthropologist. He is the Global Innovation Evangelist at Salesforce. Award-winning author and a blogger by choice, he is a keynote speaker as well.

With multiple authors contributing to this blog, Duct Tape Marketing is all about providing engaging content for its readers. The content published on this site is well-researched and conclusive. The posts discuss the benefits of various domains in the digital marketing arena. Simple in their flow and with a strong call to action to guide the audience, DTM blogs are indeed noteworthy.
John Jantsch, the founder of DTM, is a speaker, marketing consultant and bestselling author. His noted resources are Duct Tape Selling,Duct Tape Marketing, The Commitment Engine,SEO for Growth and The Referral Engine.

15. Buffer
Blogs with statistics are considered more credible as they validate your research and content. The posts published on Buffer establish an instant connect with readers because of their high-quality content and deep research. With more than 47,000 likes on Facebook, Buffer posts have increased their reach to over 1,600 people on an average.
Buffer boasts of a fully distributed team of professionals belonging to 15 nations. The team works overtime to help businesses scale up their brands and escalate social media growth. It focuses on creating fulfilling and unique workplaces by reconditioning traditional practices.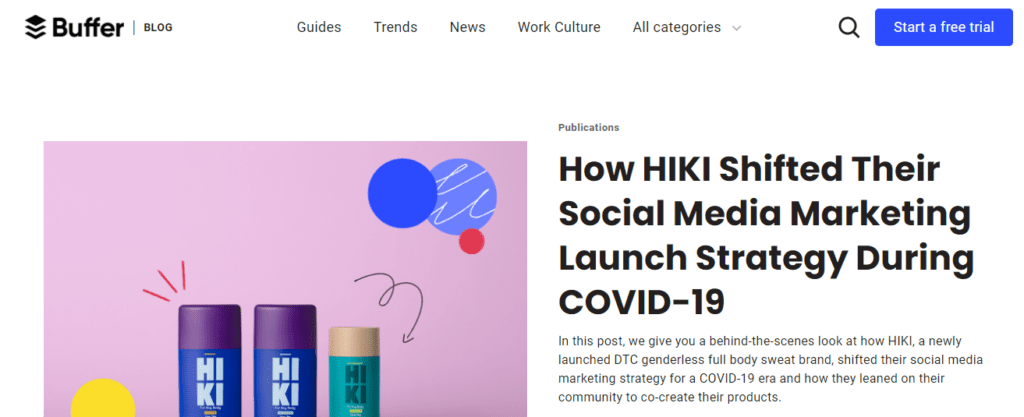 Ignite Social Media has differentiated its posts with a short introductory description. This description gives you a fair enough idea of what to expect in the content that follows. The Company strives to concentrate on getting measurable social media results at all times.
Ever since the inception of Ignite Social Media in 2016, it has created several industry landmarks by leading the way for businesses. Be it influencer relations to advertising and promotions, community management, reporting strategies, data analytics or case studies, this site watches trends and publishes then all.

17. MarketingProfs
The blogs on this portal depict the importance of adopting a unique approach in your digital marketing strategies. Look out for the most recent posts first or get access to the most exclusive resources; whichever way you go, you can be assured of getting informative content.
Analytics excels in providing supplementary free resources for the growth of small teams, individuals and organizations. Readers can look forward to increasing their productivity with impressive marketing strategies after reading the blogs on Analytics.

The blogs posted here have the capability of catching the attention of their target audience. The USP of this site lies in its user-centric approach that is both personalized and unique. The content is right for all types of audience and gives engaging end results. The blogs provide the best and original analysis and data on the most recent happenings taking place in the digital marketing industry.
Social Media Today, a premium industry publication is managed by Industry Dive. The journalists on this site have designed agendas for over 5+ million decision-makers across different industry verticals.

The blogs published on SEJ are scannable and informative. They are intriguing in terms of content and the value provided to readers. Easy and quick to scan, they are noted for their smooth content flows and catchy headings. The popular blog has several tips on effective content writing strategies for digital marketing purposes.
SEJ was launched in the year 2003. It adopts a different community-based approach that can be integrated into the marketing content. The blog thrives under Alpha Brand Media; most of its contributions are by inhouse and independent online marketing experts.

Far from providing choppy or disconnected content, SER is reputed for its interesting topics that are informative and easy-to-read. This site presents advanced and complicated topics in a lucid way. With a large number of followers, it is a much-favored site for contemporary digital marketers. Get ready to get inspired by the writer contributions on SER.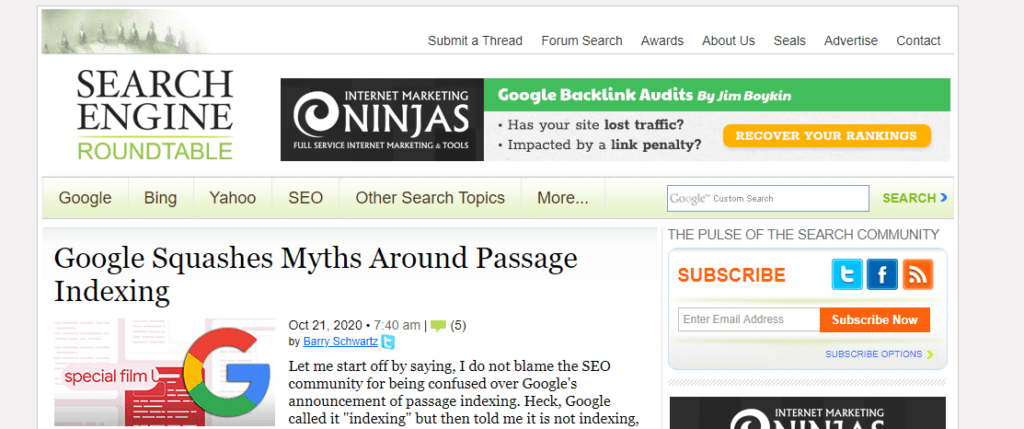 Going Forward
Sarah took a deep breath and looked at Michael adoringly. "You are certainly well-versed with the best blogsites for digital marketers. Now I'm eager to read them to enhance my knowledge in this field."
Before she could continue, Michael waved off the formalities with his trademark smile. "Keep your compliments short and crisp. The best bloggers and digital marketers follow the same approach," he ended the discussion wittingly.