Top 20 Digital Marketing Blogs and Their Specialties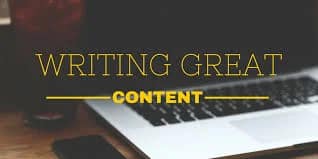 The Pandemic has put businesses on a new pedestal. Modernization of legacy systems and digital transformations are the new normal for established businesses. Besides, startups and small businesses are looking for the best content to get a strong foothold in the industry they belong.
As a content writer for startups, your aim should be to create a flourishing brand. This may require long hours of work and time. To get the expected results for your clients, the quality of your content has to be up to the mark.You need to master the art of writing accurate, targeted and most relevant content that's original and engaging alike.
Read on to understand what goes behind writing great SEO content for new businesses, entrepreneurs and startup companies.
Importance of Good Content
Any business that's on the verge of starting out needs a strong identity. In this situation, words serve as smart tools of conversation to reach out to interested customers and vendors in the real world. It's important to understand how to generate higher traffic and leads by weaving the right keywords, tags, metatags, bullets and paragraphs in your content. And of course, whatever you write has to be accurate, relevant and meaningful for the target audience.
Here are some proven tips to get your content right.
1. Be Able to Provide Answers
Why do customers and people looking up businesses write queries on Google and other search engines? To get answers. That's the ultimate goal of popular search engines. Be it through links, textual content, images or videos, Google returns instant answers to whatever is being asked for.
The same is true for the business content you write. Whatever goes into your writing should establish the online presence of the startup you are working for. Focus on providing further knowledge and answers to readers about the products and services they need. Remember, whether they are viewing infographic content, video content or textual content – customer satisfaction lies in getting quick and accurate answers!
2. Better Communication with Images and Videos!
Textual content may be the preferred content style but is not the only one. Buyers love to absorb different types of content. Make your content more engaging by allowing them to see or hear what you wish to say. Visual and hearing aids are beneficial tools in the hands of content developers. Graphs, pictures, videos, diagrams, infographics and screenshots often speak louder than words, so use them for illustrating business concepts and ideas. Aim to provide enhanced customer experiences by reinforcing what the startup provides with images and videos.
Whatever be the nature or type of your content, strive to make it more visually appealing by adding pictures. Apart from breaking the monotony of your paragraphs and bulleted lists, images can make your content colorful and valuable.
3. Actionable Content
Does your content have a proper call to action (CTA)? Do your posts advise customers about how to figure out foreseeable issues and apply the products and services right away? Actionable content is of primary importance as it explains to users how to benefit from the information given by you. The words of actionable posts are not condescending; they do not tell buyers how or what to do in a lowly way. Rather, well-written content for startups respects the shortcomings of readers and assures them of the best use of the provided material.
4. Think Out-of-the-Box
The structure of your content may be on the same line as that of competitor sites, but it has to be planned differently. Present your topic and ideas uniquely. Focus on providing a striking introduction and helpful closure. You may want to write fresh content after understanding what's on offer by the newly launched brand.
5.Use Simple Language
When you start writing your content, try keeping your lines as simple as possible. In most cases, customers are on the lookout for easy-flowing sites where they can get what they want in the shortest possible time. You may want to highlight the USPs and products of your clients' in clear language, without too much jargons or frills. Provide tips about how to put their products and services in use. Simply writing the topic in a lucid and organized way can bring new ideas into the minds of prospective customers. Those who read such content should be able to derive value from the startups in better ways. Write accordingly.
3.Research and More Research
Keep yourself in the research mode at all times, whether you're writing or not. This will generate long lists of good content ideas to draw from when you actually sit down to put it all together. Ideas will keep popping in your head if you make consistent research a habit. With research being the guiding force, you will find the quality of whatever you write improving dramatically.
To earn optimum results, start ideating with your client from day one.


Jot down the main points that can form the skeleton of your work.


Note the website URLs that can provide valid and quick information / illustrations on your topics.
If you choose to be in the research mode while scouring the internet, you will have an outline chalked out on paper or in your head much before you start writing the startup's content
Regardless of the industry vertical you are writing for, penning high-quality content will impact the online presence of the client's website positively.It will be rewarded by Google for publishing worthy and original content; this will increase the startup's rankings manifold. So, get your business vocabulary together, understand what's good for the startup's image, figure out the needs of the customers and write appropriately to link all this together. Remember, every word written by you counts. You can help brands establish themselves in no time – courtesy the content written by you!